August 27, 2017
Mattar Paneer is North Indian recipe made with green peas and cottage cheese. Green peas is called as mattar in Hindi and cottage cheese as paneer. North Indian cuisine consist of varieties of popular paneer recipes among which is mattar paneer. Paneer is good option for vegetarians mostly in restaurants or wedding or any other occasions as they don't eat chicken.
How To Make Mattar Paneer:
Wash and boil 300 gm mattar (green peas) till soft.

Cut 300 gms paneer (cottage cheese) into square shape pieces.

Chop onions and tomatoes.

Heat 3 tablespoon oil in kadai.

Put 1/2 tablespoon cumin seeds.

Once cumin seeds starts cracking add chopped onions and stir.

Put pinch of salt and cook onion till soft. Salt helps in cooking onion fast.

Now when onion turns soft add 1 tablespoon ginger-garlic paste.

Cook till raw aroma of ginger-garlic goes out.

Add chopped tomatoes and cook till soft in mashable format.

Add 1/2 teaspoon turmeric powder, 2 teaspoon coriander powder and 1/2 teaspoon red chilly powder.

Cook masala for 1 minute.

Now add boiled mattar (green peas) and stir.

Put salt to taste and 1 1/2 tablespoon garam masala powder.

Put 2 cups water and give it a stir.

Now add paneer (cottage cheese) pieces and fresh chopped coriander leaves.

Allow it to cook for 5 minutes and then put 1/2 cup milk.

Cook mattar paneer for more 10-15 minutes on low to medium flame.

Mattar paneer is ready. Switch off the flame.
April 9, 2018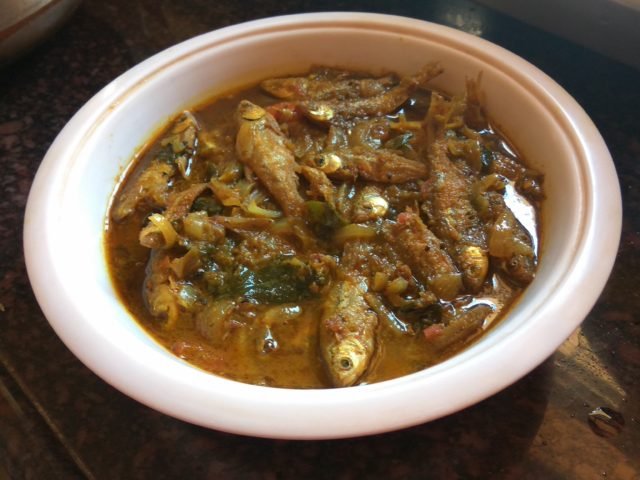 Small Fish Curry Recipe:
First clean the fish by cutting slightly below head near neck and remove the impurities inside fish.
Wash all the fish with water and keep aside.
Put little turmeric powder and little salt and mix all the fish such that all the fish (maach) is coated with turmeric and salt nicely.
We marinade chicken, mutton and fish with turmeric because removes infections.
Heat oil in kadai for frying small fishes.
Put small fishes in batches in hot oil and deep fry from both the sides till the fish turns crispier.
Instead of deep frying people also shallow fry fish but you get little different taste in curry. Its upto you if you want to keep fish soft or crispy but as we have small fishes so it becomes little difficult to turn fish to other side it might break.
So I m deep frying the fishes from both the sides till crisp.
Once all fishes are fried, remove and keep aside in plate.
Now put some cumin seeds in hot oil.
As soon as cumin starts cracking put chopped onions and fry till translucent.
Now break and put curry leaves and give it a stir.
Put grinded masala and keep stiring for 2-3 minutes.
Add 1 chopped tomato and cook for more 2 minute.
Now add dry spices turmeric powder, coriander powder, red chilly powder and stir for a minute.
Now add 2 glass of water and mix.
Add salt and mix again.
Put fried fishes in the curry, stir and cook for 10-15 minutes.
Switch of the flame and serve small fish curry with steamed rice.